These are the books that I would recommend highly that I have read this year. I read 181 last year and these are the 16 books I enjoyed the most. They are in the order that I read them in and not sorted by by favorites. For more books that I enjoyed last year please check out this list.
Built – Jay Crownover
I don't think anyone can top Captain No Fun as my favorite book boyfriend, but Mr. Fix-It came pretty damn close. This was an amazing story all around and is now one of my all time favorites. I cannot wait for the rest of this series.

Listen To Me – Kristen Proby
Jake Keller is by far my favorite Kristen Proby character, but Addison comes in a close second. One of my favorite parts of a Kristen Proby story is the close knit groups and their relationships with each other. I am looking forward to seeing a lot more from the Seduction family and the amazing strong women she has created.
I have now read this book 3 times since it was released and I am still at a loss for words. I loved every aspect of this book so much I can't decide where to start and how to convey my overwhelming love for this book. I'll leave it to I wholeheartedly recommend you pick up this book. It has all the swoons, all the banter and all the steam you would expect from a Kristen Proby novel and then some.

Dirty Ugly Toy – K. Webster
This book is not for everyone, but it was so beautiful, haunting, heartbreaking, terrifying and intriguing that I could not put it down. I read it in one day and already want to start again. This book was more than a book, it was an experience that I would happily undertake again and again.
My Thoughts
From the second I read the synopsis of this book I was hooked. I love dark and twisty reads, so this was right up my alley. I didn't think that I would fall so hard for Braxton or Jessica. These two broken people found each other in the most messed up of ways, but ended up being better than they could have imagined. For all the darkness and rawness of the story there was an underlying goodness in both Jessica and Braxton that called to me and made me abandon all responsibility and read through this book from start to finish in one day. I highly recommend this book if you want something that is a little different, a lot beautiful, and a little ugly all at the same time
I pre-ordered this book because of the synopsis and I was extremely happy I did.

This is WAR, Baby and This is LOVE, Baby by K. Webster
As soon as I finished this book I wrote this on Goodreads "I have no words. This book was so incredible I don't know how to write a review. As soon as I can gather my thoughts about the amazingness I just read, I will write a full review." In some ways I still feel like that. How am I going to review this and express the amazingness without being spoilery? I will say that it is not an easy read and please heed the following warning : "This is War, Baby is a dark romance. A really dark one. So dark you're going to wish you had a flashlight to see yourself to the end and someone to hold your hand. Human trafficking, dubious consent, and strong sexual themes that could trigger emotional distress are found in this story. This story is NOT for everyone."
My Thoughts
This book starts off like any romance involving high school age people, but you are quickly thrown for a loop. This part of the story was seriously hard to read, but at the same time I was compelled to keep reading because of Baylee. I loved her character from the start. She was strong, smart and seeing the events through her eyes made the story a little bit easier to read.
So the basics… she was kidnapped by a crazy, intense, messed up man who has claimed her as his own. He will stop at nothing to keep her, and that is where he is truly terrifying. Enter War the man she was sold to. This part of the story was still hard to read but in a different way. War is a broken man that also happens to be a gorgeous rich young man who has a slew of mental issues and is in a prison of his fears and obsession.
War… I loved War. His obsessions were debilitating and it was heartbreaking. Ever time we got to see the world through his POV I fell a little harder for him. It was so real and brutal and beautiful that your heart breaks while you swoon. They are an old couple at first but as they start sharing and trusting each other they from something that neither of them expects but both welcome. She is his peace and he is her savior, until it is all wrecked again by her kidnapper and tormentor. At the end we are left with more questions that we started with, but it has been a week since I read this book and I still can't get these characters out of my head, luckily there is not a very long wait for book two. I cannot wait to revisit these characters and get answers.
I highly recommend this book if you can handle a little darker of a read and some uncomfortable situations. I was hooked from the first word and could not put this down. I felt compelled to finish this book and am so happy that I did. K. Webster's writing in this book is phenomenal. She can take a monster and make you feel for him, and at the same time fear and loathe him. Everything about this story felt so real and raw and beautiful that I have a feeling this will be one of my go to books.
I just finished this book and I have no words. Of all the things I could imagine would happen in this book, somehow K. Webster was able make the perfect ending I didn't know I needed.
Every word, every feeling, every second of this book was everything.
The amazing story weaving between War and Peace was enough to shatter your heart, but was also so powerful and all encompassing that it put you back together again, piece by piece, word by word. I loved every second of this journey and highly recommend picking up this series if you want something that has a dark side, but also has enough light to lead you through.

Hate to Love You and Love to Hate You by Isabelle Richards
Edge of Chaos and East of Redemption by Molly E. Lee

This book kept me on the edge of my seat from the very first word. I was packed full of action, intrigue, mystery, love, steamy moments and so much fun to read.
My Thoughts
I'm going to keep this a short and spoiler free as I can, because this is one of those books that you have to experience for yourself in order to really get it. This book has such depth, emotion and heart stopping adventure, that you almost forget you are reading a romance novel. (Yes, there are some steamy scenes) It's this total immersion in the world that draws me to Molly E. Lee's books. She has this uncanny way of combining all these elements into an all engrossing story that makes you forget everything other than the story unfolding on the pages.
The first page will have you hooked, but by the end you will be in love with this world, these characters, and the hunt for treasure. I knew going in that it had an Indiana Jones vibe, and I was not disappointed. It's full of adventure, humor, a perilous journey, survival skills, and a second chance with your first love. It is a very fast-paced read that will keep you turning the pages and keep you on the edge of your seat to see what's going to happen next with Easton and Rain. I highly recommend the Love on the Edge series for anyone that's looking for a different kind romance that stands head and shoulders above the others.

Good Girl by Lauren Layne


It's no secret that I love Lauren Layne books, but this book is so much more than that. Every word, every page was special. It was so beautifully written, full of heart, heat and the things we expect (and some we don't, in a good way) from a Lauren Layne novel, that i was blown away.
My Thoughts
Jenny Dawson has been dubbed America's Sweetheart by the media and hounded by the paparazzi. I love that she is so down to earth and a still a country girl at heart. It was fun seeing her prove everyone wrong about the preconceptions they had about her. Actually I loved everything about Jenny. If I could have a book character be a real friend I would definitely choose Jenny Dawson. She is smart, funny, fun, not afraid to get dirty, and full of sass. And Noah talk about a dreamy brooding hero.
I loved every second of this book so much I finished and immediately started reading again. Even the side characters of this book are amazing. I highly recommend picking this book up, you will not regret it.

Style by Chelsea M. Cameron


I loved this book. It was adorable, sweet, and a great read.
My Thoughts
I loved this book. It was adorable, sweet, and a great read. It was nice to have a sweet coming of age story with very little angst and a happy ending. This book was hard to put down. It was a beautiful story of first love, figuring out relationships in High School and finding yourself.
"What I DO know is that I can't go back in time and put a book in my hands, but I CAN put it in someone else's." Thank you for writing for this book, Chelsea M. Cameron for all the people that need these words and all those that support and love them unconditionally.

Restored by Kate Canterbary
I fell in love with Sam and Tiel all over again in this book. This book felt organic like you were checking in with old friends instead of reading a sequel just for a sequel's sake. Restored had it all, ups and downs, serious steamy moments, laugh out loud antics, incredible banter and a whole lot of love. It will make you break out the tissues one moment and laugh out loud the next and was the perfect combination of each. This is what Kate Canterbary does best and what makes her one of my top auto buy authors.
My Thoughts
At the end of Necessary Restorations we got a happy for now, but it felt like these two still had something else to say. I am thrilled that Restored picked up right where Necessary Restorations left off and we get to hear the rest of their story. Being privy to the evolution of this relationship felt like you were spying on the couple next door at times. It was so real and so beautifully written that these characters feel like they could be real. That is what makes this book so special and what makes this one of my top reads of 2016.

Sparking The Fire – Kate Meader
I have been intrigued by Wyatt Fox since I read Rekindle the Flame in an anthology before Flirting With Fire came out. He is the strong silent type, but also fiercely protective of his family and sticks to the background. I was not disappointed. Wyatt was so much more than I imagined and I loved every second of his story.
My Thoughts
I loved the way this book started. We got to see a side of Wyatt we haven't seen before and it was refreshing. I loved both Wyatt and Molly in this story so much. Molly is a firecracker, but still reeling from public scandal, and Wyatt is dealing with a whole host of guilt and overprotectiveness. When these two collide the sexual tension is off the charts. You can feel the draw they have on each other and I loved every second.
These two fit in every way you could imagine. She makes him laugh and smile more, he grounds her and protects her, even when she doesn't want it. I loved they way they brought each other out of their self-imposed shells and how the Dempsey's welcome everyone into the fold. It was so fun getting to catch up with the other couple's throughout this story. I highly recommend this series, but in particular this book. It was so much fun to read, had so much heart, and was off the charts steamy. I am sad to see it go, but happy I can revisit the Dempsey's anytime I want.

HIgh Sided – LP Dover

Out Of Love – RC Boldt
I knew Foster and Noelle's story would be one of my favorites from their banter in the last few books, But I was completely blown away. This book had it all, fun back and forth banter, a strong smart heroine, steamy sexy times, and a bad ass alpha with a soft spot for Disney movies.

Some One Like You – Lauren Layne
Wow. I knew Lincoln's story was going to be special, but this was way more than I expected. It is safe to say that Lincoln is my new favorite Stiletto/Oxford man. There is so much more to the charismatic ladies man that we have grown to love over the course of this series and it really was special to peel back all of those layers and see the "real" Lincoln.
My Thoughts
From the other books in this series we have met the infamous ladies man Lincoln Mathis, but what you see is not always what you get. I had a feeling this book was going to pull out all of the stops and bring all of the feels, and I was not disappointed. The man behind the reputation is incredible, his story is moving, and his journey is both heartbreaking and endearing all at the same time.
Daisy is Emma's twin sister, but is so wholly and completely different from Emma that if they didn't look-alike you would never know. Neither of them are what they show the world, so it is no surprise that they become fast friends. Lincoln lets her see behind the veil so to speak and both of their worlds change from that moment on.
I loved every second of this book. I forced myself to slow down several times so that I could savor the story a little more and have it last just a little longer. After 2 readings I still think this is my favorite Lauren Layne book. I thoroughly enjoyed reading this book and highly recommend it if you like strong characters that grab you from page 1 and don't let go until long after you have finished the story.

The Spire – Kate Canterbary
I honestly have no words for this book. It was such a beautiful journey home. If I could give it all of the stars I would. So for now I am using GIFs to convey my feelings for this amazing book.
The book starts and we are all:

And then there is quite a bit of this:

With a little bit of this:

And this:

And this:

And this: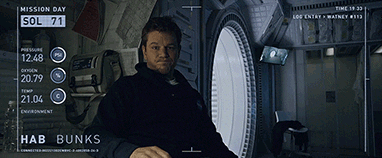 And a whole lot of this:


Retreat – Jay Crownover
I was hooked from the first word of this story. This is so unlike anything I have read from Jay before, but she knocked it out of the park with this one. Cowboys, suspense, action, bad ass heroines, grumpy alpha males and super steamy scenes make this book one of my top reads of 2016.